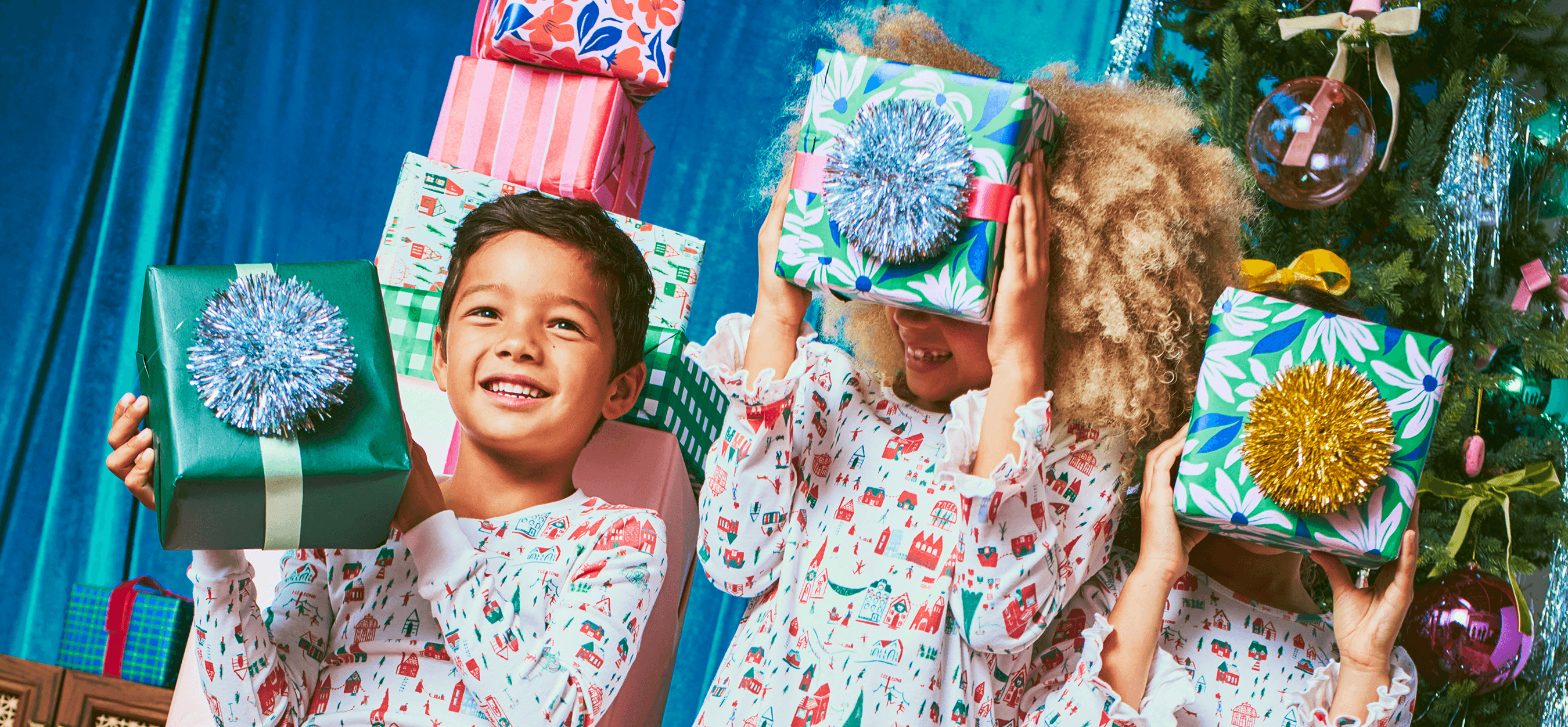 Gift Guide
Gift Ideas for Boys of All Ages
Whether he's a budding chef, a mini architect, or has a need for speed, he'll find something in our guide to gifts for boys–from babies to tweens.
Photography

Anna Palma
Styling

Jessica Sailer, Prop Styling by Cecilia Elguero
Christmas Gifts Ideas For Baby Boys
For Christmas, we love  that feel special and suited to the season. Even if it's his first Christmas, parents probably have all the gear they need (and might be swimming in newborn onesies), so for the perfect Christmas gift for a baby boy, consider something cozy for the winter ahead or a toy that will grow with him.
Christmas Toys for Baby Boys
• A bath toy he'll play with long after he's graduated to the tub–from an origami boat to a rubber kale leaf or stacking cups to learn about volume while going for a splash.
• As his personality starts to shine through, a plush toy can be a sweet nod to this stage of their life–a knit owl for the baby that never sleeps, or a poodle for the baby obsessed with the family dog, or a bunny for your little bunny.
•A rocker isn't something parents are likely to receive at a baby shower, but by the time baby boys are starting to toddle around, a ride-on rocker is a thoughtful gift for honing gross motor skills–and rocking around the house.
• Gift something that stacks for baby boys just learning to play with blocks. There is a set to suit every style: classic wood blocks, bright stacking rainbows, or soft fabric squares. For something with pizazz, there are even kaleidoscope blocks, magnetic stacking toys, and shape sorters.
• A personalized book commemorates a memorable Christmas whether it's a scrapbook or books that can be monogrammed or personalized with his name.
• Use a Christmas ornament to remember moments throughout the year with your mini–write the year on a ribbon threaded through the ornament to make it an heirloom. It could be a zebra for a zoo-obsessed boy, a nutcracker for a boy that loves to dance, a taxi for a city kid, or a croissant to remember baby's first trip.
Cozy Christmas Clothes For Baby Boys
• From puffers to field coats or full-bodied rompers and snowsuits, a cozy  is a splurgy Christmas gift for boys that he'll wear all winter.
• Christmas pajamas are a Maisonette family tried-and-true gift for baby boys and their families. There are holiday versions you can mix and match or go all-in on a favorite print.
Christmas Gifts For Toddler Boys
You know a toy is a success when a toddler will play with it longer than the box it came in. The  are open-ended and will grow with him as he expands his ability to play independently and imaginatively.
Christmas Toys For Toddler Boys
• A doll is a new friend toddlers can dress, make tea for, or snuggle on a long trip. Dolls help boys practice nurturing and caretaking.
• Stickers are the perfect stocking stuffer for toddler boys–from trucks to unicorns and farm animals.
• Most toddlers are ready for their first game, so matching, memory, or collaborative games like Orchard are a great place to start.
• Vehicles & trains promote imaginat ion through pretend play and help little ones practice turn-taking.
• A play kitchen helps toddlers develop language and communication skills as they name foods, go through the steps of a recipe, and count ingredients.
• A play tent can be a secret library, clubhouse, or a castle in the living room for a room all his own.
Workhorse Christmas Clothes For Toddler Boys
• Layering sweaters look pulled together paired with a peter pan collar and cords or rough-and-tumble with a work shirt layered under a vest.
• A hat & mittens is a Christmas gift idea for boys who love to play outside and might not always make it home with both mittens.
Christmas Gifts For School-Aged Boys
These boys are all about making, building, exploring the world around them, so we love to give kits as Christmas gifts for boys now that they're old enough for more advanced activities like robotics, coding, making beaded bracelets, and slime.
Cool Christmas Toys For School-Aged Boys
•  are a perfect Christmas gift for boys, elevating their Saturday afternoon science experiments.
• Gift an arts & crafts kit for budding Picassos and Rodins–from an origami kit to everything you need to make a dinosaur.
• Give boys a unique Christmas ornament that's theirs to hang on the tree. Choose one to represent a milestone or highlight from the year, like winning a dance or science competition.
• Trick out the basement with the rec room toys like cornhole, tabletop shuffleboard, or a mini basketball hoop that the whole family can play together.
• Build something with Kapla–the magic planks made from French pine that boys can use to create towers, tractors, and even an owl.
Christmas Clothes For Hard-to-Please Boys
We love a sweatshirt in a cool print for school-aged boys because all he really wants to do is Roblox and chill. Or try a puffer coat for outdoor adventures, paired with an afternoon snow tubing or a hike together. Finally, of course, holiday pajamas for opening on Christmas Eve to match with his siblings and cousins.
Christmas Gifts For Tween & Teen Boys
Still a kid, but with a growing sense of self and style, gift tweens and teens room upgrades or elevated versions of classic clothes.
• A science experiment from Copernicus Toys, like a catapult kit or make an air-powered blaster or a propulsion rocket with kits from Discovery.
• A 1000+ piece art-inspired puzzle keeps them occupied during that sleepy week between Christmas and the New Year.
• For teens whose room is their domain (and may only come out for more snacks), we think he'd like a handsome diffuser along with a woodsy essential oil. Pair it with a color-blocked throw blanket he can bring to a future dorm room.
• Teens may have strong opinions about what to wear, but a sweater and a blazer in a fantastic print will have him ready for Nana's house or an afterschool job interview.