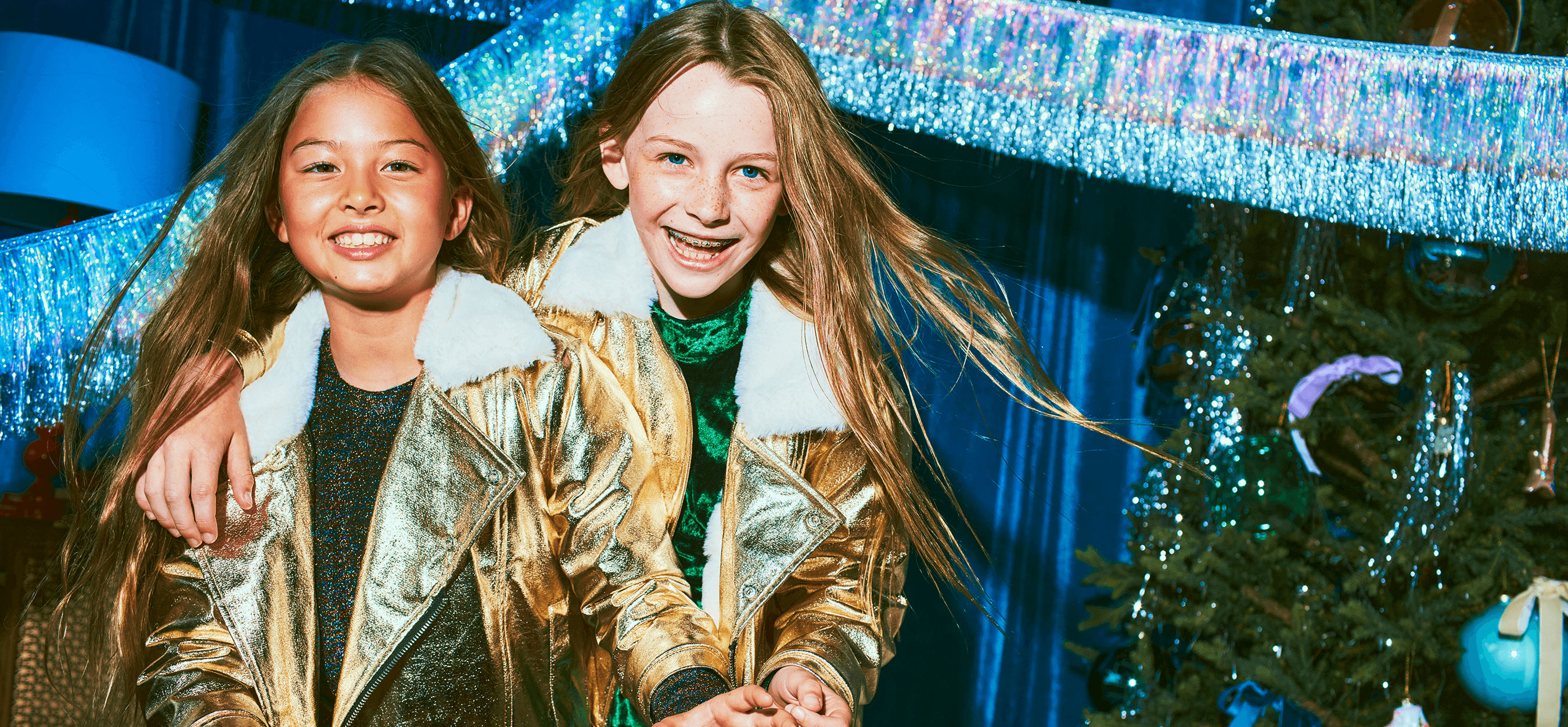 Gift Guide
Gift Guide for Girls of All Ages
From robots to a new ride or a charm necklace she can wear forever, our editors have curated our most extensive list yet of tried-and-true Christmas gifts for girls that will spark joy–and their imaginations.
Christmas Gift Ideas For Baby Girls
For Christmas, we love  that feel a bit special and suited to the season. Even if it's baby's first Christmas, parents probably have all the gear they need (and might be swimming in onesies), so for the perfect Christmas gift for a baby girl, consider something stylish and cozy for the winter ahead or a toy that will grow with her.
Sweet Christmas Toys For Baby Girls
• As her personality starts to shine through, a plush toy can be a thoughtful nod to this stage of her life–a knit owl for the baby that never sleeps, a taxi for a city girl, or a bunny for your little bunny.
•A rocker isn't something parents are likely to receive at a baby shower, but a ride-on rocker is a thoughtful gift for honing those gross motor skills–and scooting around the house.
• A bath toy that she'll play with long after she's graduated to the tub–choose from sail boats to cheeky veggies or stacking cups to learn about volume while she splashes.
• A personalized book to commemorates her first holiday–either a scrapbook of her first year or books that can be personalized with her name.
• Start a tradition to gift a Christmas ornament every year–it could be a flamingo for a zoo-obsessed girl, a nutcracker for one that loves to dance, or a croissant to remember baby's first trip. Write or stitch the year on a ribbon threaded through the ornament to make it an heirloom.
Cozy Christmas Clothes For Baby Girls
• From puffers to field coats or full-bodied rompers and snowsuits, a cozy coat is a splurgy gift that she'll wear all winter.
• Christmas pajamas are a Maisonette family tried-and-true gift for baby girls and their families. Mix and match or go all-in on a favorite print.
• A head full of hair isn't a prerequisite for a stocking full of hair bows, something she won't outgrow quite as quickly as a dress.
Christmas Gifts For Little Girls
Toddlers are endlessly curious and since they learn through play the best Christmas gift ideas for toddler girls are open-ended toys that give them opportunities to safely explore the world around them. Hint: When she plays with a toy for longer than the box it came in you know you have a winner!
Toys For Toddler Girls
•  and dollhouses are great Christmas gifts for little girls to help them learn about themselves and their daily routine like get dressed or eating together while they build empathy skills.
•  are the perfect stocking stuffer for toddlers–from dinosaurs to unicorns, they're the best road trip treat.
• Most toddlers are ready for their  around now and matching, memory, or collaborative games like Orchard are a great place to start. Try it out over holiday break with her cousins.
•  promote imaginat ion through pretend play and help little ones practice turn-taking with other children.
• A play kitchen is the MVP in many a playroom, often getting daily use for years starting from age two or three. If she already has a kitchen, go with fun play food accessories like an apron, a cash r egister, or even funny felt food or a blender.
Christmas Gifts for Little Girls That Sparkle
• Party dresses for New Year's Eve and family photos in satin, sequins, or pretty prints. Pair it with fun, oversize costume jewelry for her dress up box.
• Cozy layering sweaters look pulled together paired with a ruffle collar or thrown over a dress while hats & mittens are a go-to Christmas gift idea for girls who love to play outside.
Christmas Gift Ideas For School-Aged Girls
These girls are all about making, building, exploring the world around them, so consider leaning into kits as Christmas gifts for girls that are ready to dive into more advanced activities like robotics, coding, making beaded bracelets, and slime.
Christmas Toys For School-Aged Girls
• Gift an arts & crafts kit for budding O'Keefes–from an origami kit to everything you need to start watercoloring.
• STEM toys for Saturday afternoon science experiments.
• Build something with Kapla–the magic planks made from French pine that girls can use to create towers, castles, and even an owl.
• Give girls a unique Christmas ornament that's theirs to hang on the tree. Choose one to represent a milestone or highlight from the year, like winning a science competition or turning ten.
From soothing scents like tangerine and honeydew to styles with a game-changing tiny toy at the center, bath bombs are a wildly popular Christmas gift for girls we can get behind.
Christmas Clothes For Hard-to-Please Girls
We love a fluffy coat for outdoor adventures, paired with an afternoon snow tubing or a hike together. Holiday pajamas are the perfect gift for opening on Christmas Eve to match with her siblings and cousins while sparkling jewelry will zhuzh up anything from soccer uniforms to sweats.
Christmas Gift Ideas For Tween & Teen Girls
Still a kid, but with a growing sense of self and style, we love to gift tweens and teens adult upgrades for their rooms and elevated additions for her growing self-care routine.
• A 1000+ piece art-inspired puzzle for that she can work on with grandparents and siblings during sleepy week between Christmas and the New Year.
• A chic diffuser for her room along with a citrusy essential oil that feels like a trip to the spa. Pair it with a color-blocked throw blanket she can take to her future dorm room.
• A fragrance set so she can find a signature scent or layer them to suit her (rapidly changing) mood.
Christmas Clothes For Tween & Teen Girls
Just like the annual tradition of gifting an ornament, why not introduce fine jewelry to teens with a sweet but sophisticated  you can add to to commemorate milestones? Pair it with a great pair of pants and maybe (no promises!) she'll stop borrowing yours. For fun, a statement coat in a trendy texture like sherbet Sherpa, a metallic puffer, or a quilted chore coat is an update to her workhorse puffer or fleece jacket.