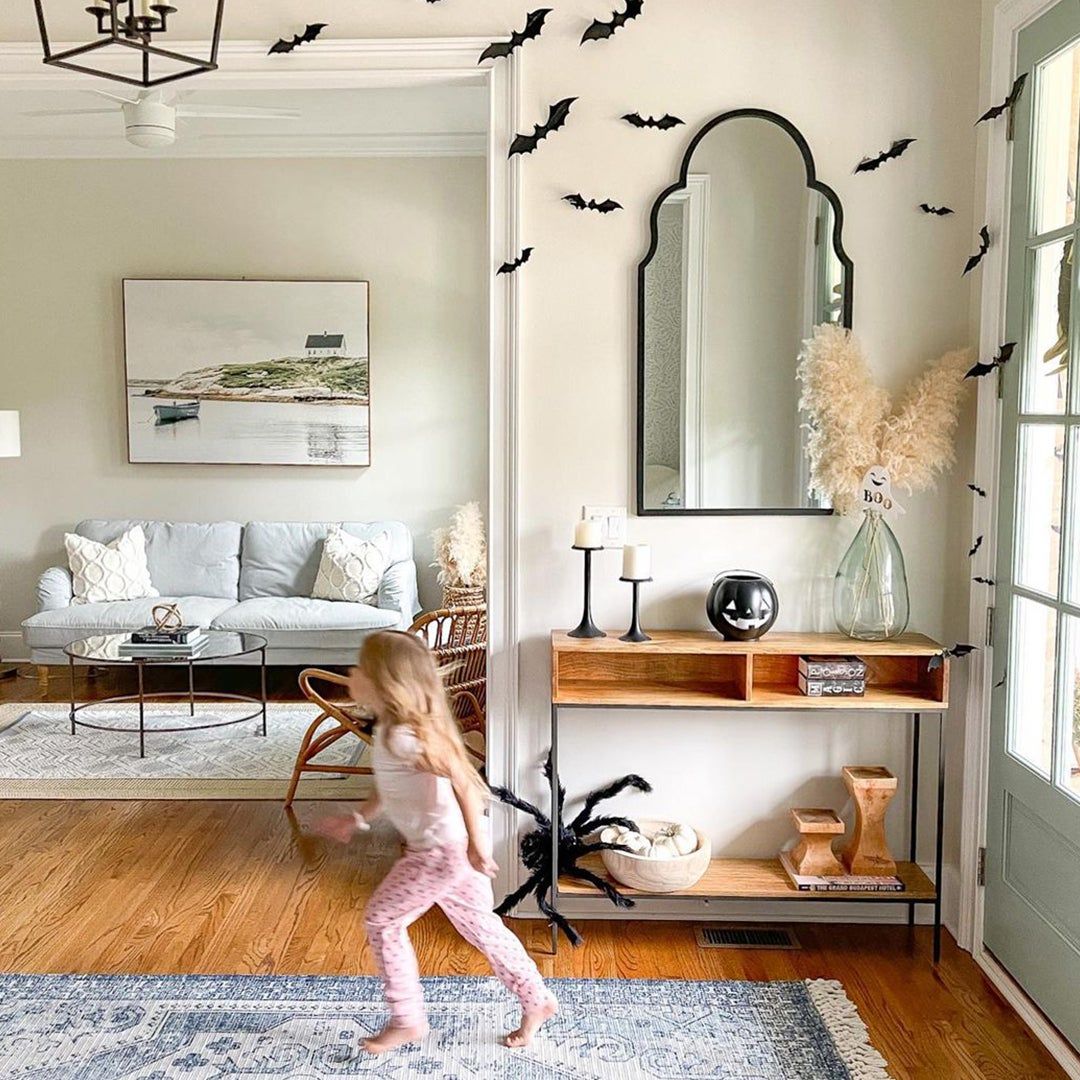 Spooky Season
Ready For Gourd Season? Try These Halloween Decoration Ideas
Spooky season is here, but if you're feeling stumped when it comes to
Halloween home decor
, we're here to help. We've rounded up clever Halloween decoration ideas to inspire, whether you're looking to deck out your outdoor area, front door, or tabletop. Read on, then go ahead and send out those
Halloween party
invites—your home is sure to be where the magic happens.
Outdoor Halloween Decoration Ideas
Fall is officially here, so why not share your love for the season with the entire neighborhood? Jazzing up your outdoor space is one simple way to showcase your autumnal spirit.
Hang Some Witch Hats
This is one of our favorite Halloween decoration ideas from Lara of Peonies and Twine! Grab a few witch hats from your costume bin (or scoop up a few of ), then hang them up on your front porch with some clear string or fishing line to create the vision that they're floating. Little kids will get a kick out of this magical setup, immediately be transported to Harry Potter.
Get Batty
Not all outdoor Halloween decoration ideas need to be over the top. Stick-on bats are excellent for jazzing up your walls both indoors and out. As a bonus, these are easy to hang up last minute (ie: right before party guests or trick-or-treaters arrive!) and are simple to remove, too. Your kiddos can even lend a hand! How genius is this batty moment from Jen in Atlanta?) If bats aren't your thing DIY it by cutting out black butterflies out of construction paper and apply to your walls with a bit of blue painter's tape inspired by
Try Pumpkin Planters
When you carve pumpkins, save a few extras to use as planters on your stoop. Jack-o-lanterns will look charming filled with mums and dahlias! Find tutorials from the floral geniuses at Putnam Flowers and Martha Stewart.
Repurpose a Favorite Basket
There are plenty of ways to repurpose everyday items you already have around the house and turn them into seasonally appropriate decor. For example, why not fill a favorite wicker basket or wagon (we love the ones from Olli Ella) with an assortment of colorful gourds and set it on the front porch? We love these sweet soft shades of greenish-blue and sherbert@my_widlflowers gathered for her front porch. When it's time to trick-or-treat, you can use the same basket to hand out candy!
Display a Witch's Broom
A straw witch's broom will survive the elements while adding a haunted touch to your front stoop. You could even grab a few and place them in a tall planter.
Grab Those Crates
Turn some crates on their side and fill them up with pumpkins for a farmstand-inspired display. Come winter, you can fill these with pinecones or evergreen branches.
Halloween Door Decorations
There are so many ways to get creative when it comes to decorating your door for Halloween. These are too cute to spook.
Hang a Halloween-Themed Wreath
Don't forget that you can enjoy wreaths all year long—they're certainly not just for the winter holidays. Pick up a fall-themed option that speaks to you; perhaps something with mini pumpkins, wheat, or bittersweet vine. Coming home at the end of a long day will feel that much more festive!
Make a Spooky Spider Web
Use string to create a spider web shape on your front door. You can even stick some plastic spiders on the web for a little extra drama.
DIY a Door Hanger
Look for a pumpkin-shaped wooden cutout at the craft store, then let kids go to town painting it. Minis will love coming home and seeing their special creation hanging front and center.
Keep it Simple
Not wild about orange everything? This black and white banner is minimal yet will still convey your love of all things Halloween. Hang it on your front door to thrill the whole neighborhood.
Halloween Party Decorations
If you're coming up short with ideas for Halloween party decorations, these simple solutions will have you feeling inspired in no time.
Opt for a Darling Faux Garland
Who needs a live garland when you can purchase this adorable, reusable option that you'll be able to decorate with year after year? Drape it over your mantel or use it as a centerpiece to add some seasonal cheer to the dining table.
Try This Twist on Place Settings
We love this too-cute twist on traditional place settings. Why not set out a little witch's hat or set of ears at every seat when your little ones host friends for pre-trick or treat pizza? Small details like these can really elevate a tablescape—people of all ages go wild for anything miniature.
Decorate With Gourds Galore
As an alternative, use gourds to indicate who is sitting where. Simply grab a few light colored gourds and use a permanent marker to spell out each guest's name. Better yet, these personalized gourds make for fun party favors for kids and adults alike!
Get Peppy With Pink Pumpkins
Who says pumpkins can't be pink? These velvet ones are oh-so-sweet and will add charm to any corner of your home. Place one on your desk and another on your little one's nightstand for a reminder of all of the fall fun to come.
Give Your Charcuterie Board a Spooky Touch
Charcuterie boards are excellent for when you're entertaining large groups: Guests can easily graze and come back for seconds as many times as they wish! To make your standard cheese plate feel a bit more special, add a few spooky touches like plastic spiders and a skeleton hand or two to the setup for shock value.
Set Out a Ghost-Themed Snow Globe
Snow globes aren't just for the winter season, and this Halloween snow globe is too cute to resist. It's also a great way to more subtly add some ghost-themed decor to your space for Halloween, if full-blown goblins and skeletons aren't exactly your thing.
Get Festive With Bottle Brush Trees
Move over, Christmas trees—right now, we're all about Halloween trees. Scatter these festive bottle brush trees throughout your home, or set them up together in the living room and create a little Halloween "village."
Incorporate a Faux Pumpkin or Two
Live pumpkins are a must, but they only last so long. Keep the pumpkin-themed decor going all season long with a chic faux option (preferably in a cool color palette!). The velvet pumpkins from Hot Skwash are full of sophisticated, vintage flair. Located just outside of Portland, Oregon, the team hand-picks each stem from local Oregon farms and is made by their collective of mother artists who hand cut, sew, and build each piece from scratch.
Don't Forget About This Throwback
Get playful with these Halloween crackers, a riff on the English Christmas cracker tradition. They're almost too adorable to use!
Get Spooky With Ghost Plates
It's all about the little details, after all. Your famous Halloween cupcakes will look even more delightful when served on seasonal ghost plates like these.