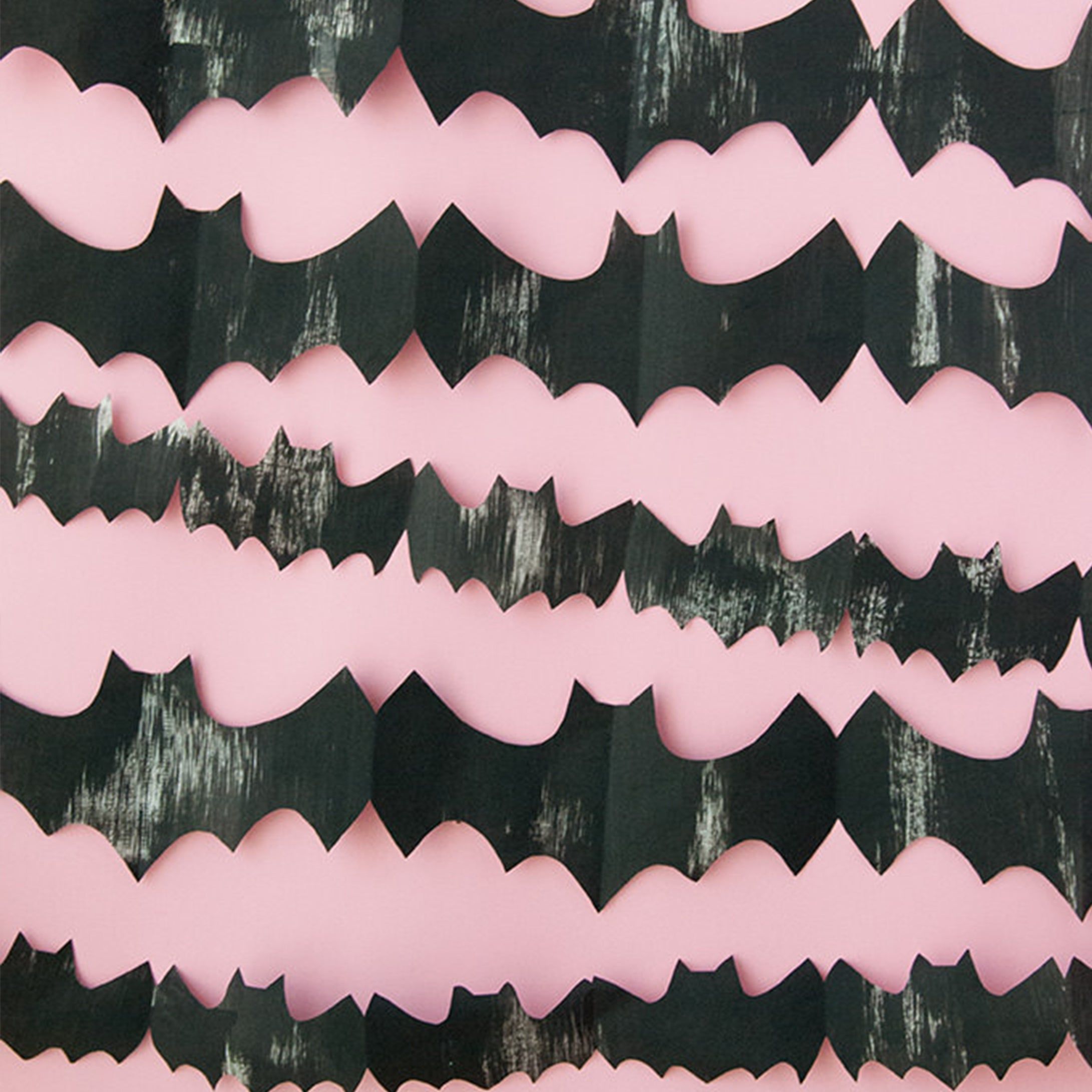 Spooky Season
10 Easy Halloween Craft Ideas for Kids
With Halloween around the corner, we're making costumes, picking pumpkins, and looking for ways to get into the spooky spirit. Whether you're hosting an October birthday party or decorating the front stoop, these Halloween craft ideas for kids are simple to set up and use materials you may already have at home.
Dancing Straw Skeleton
Handmade Charlotte's
silly skeleton turns a pom pom, string and paper straws into a dance party. With a little measuring this Halloween craft is great for school-aged kids or a team project after school. Watch him
dance
and make your own.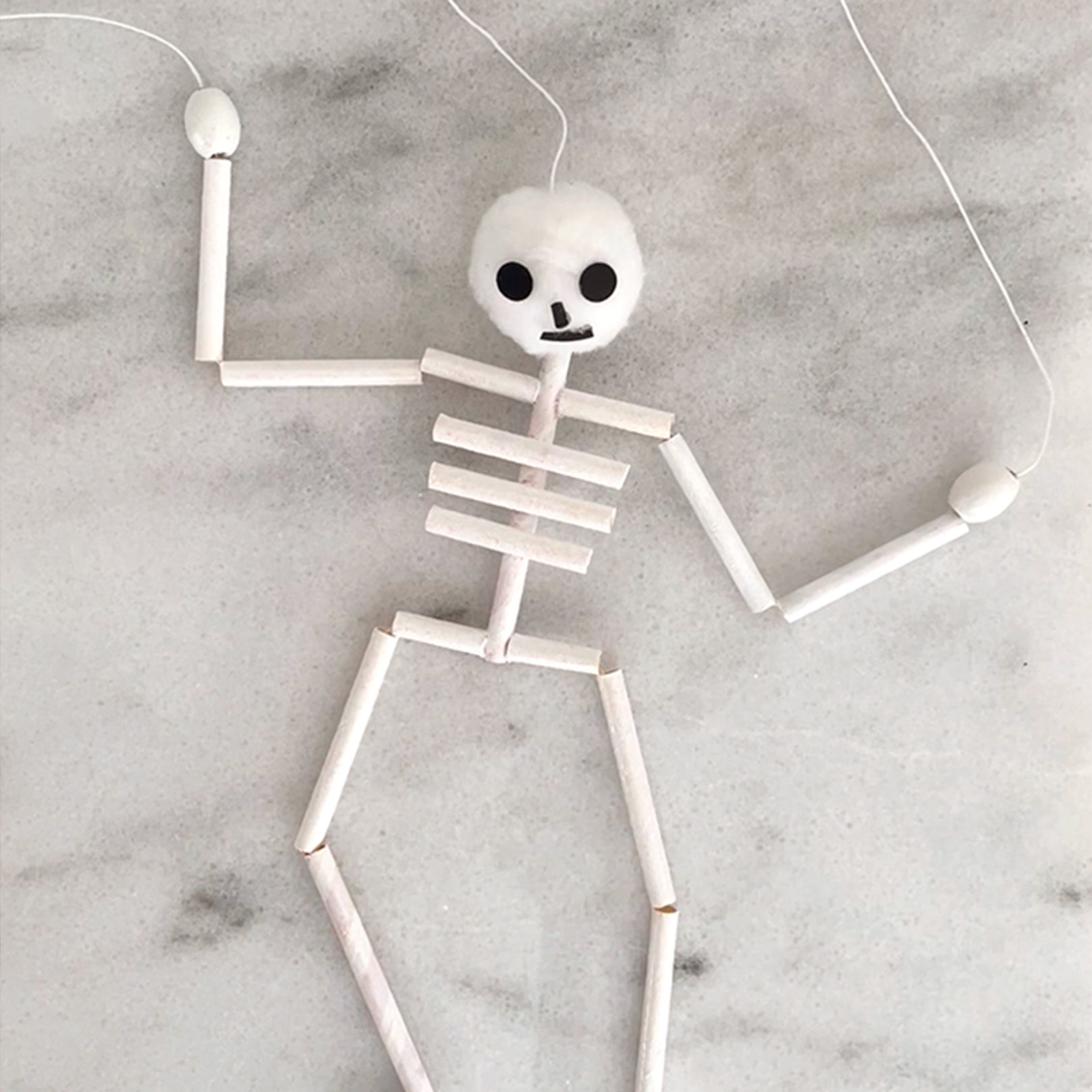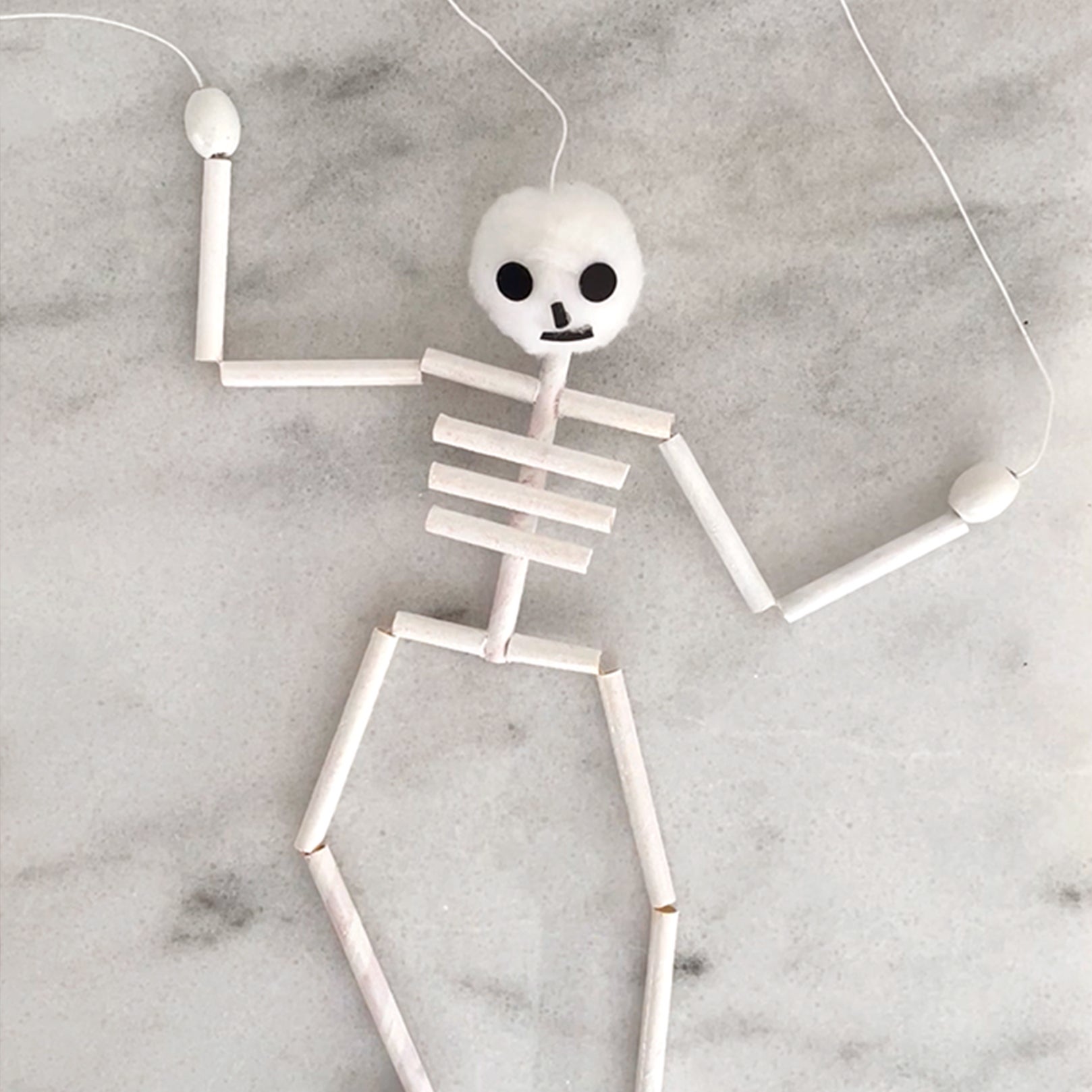 Wood Pumpkin Decorating
Decorating wood pumpkins that you can find at any craft supply store is an autumnal party take-home activity. Set each place at a table with washable black and white paint, glitter, a paintbrush, and an unfinished wood pumpkin for each mini.
Amy Blessing
used hollowed-out mini pumpkins, but small dishes or plates work too.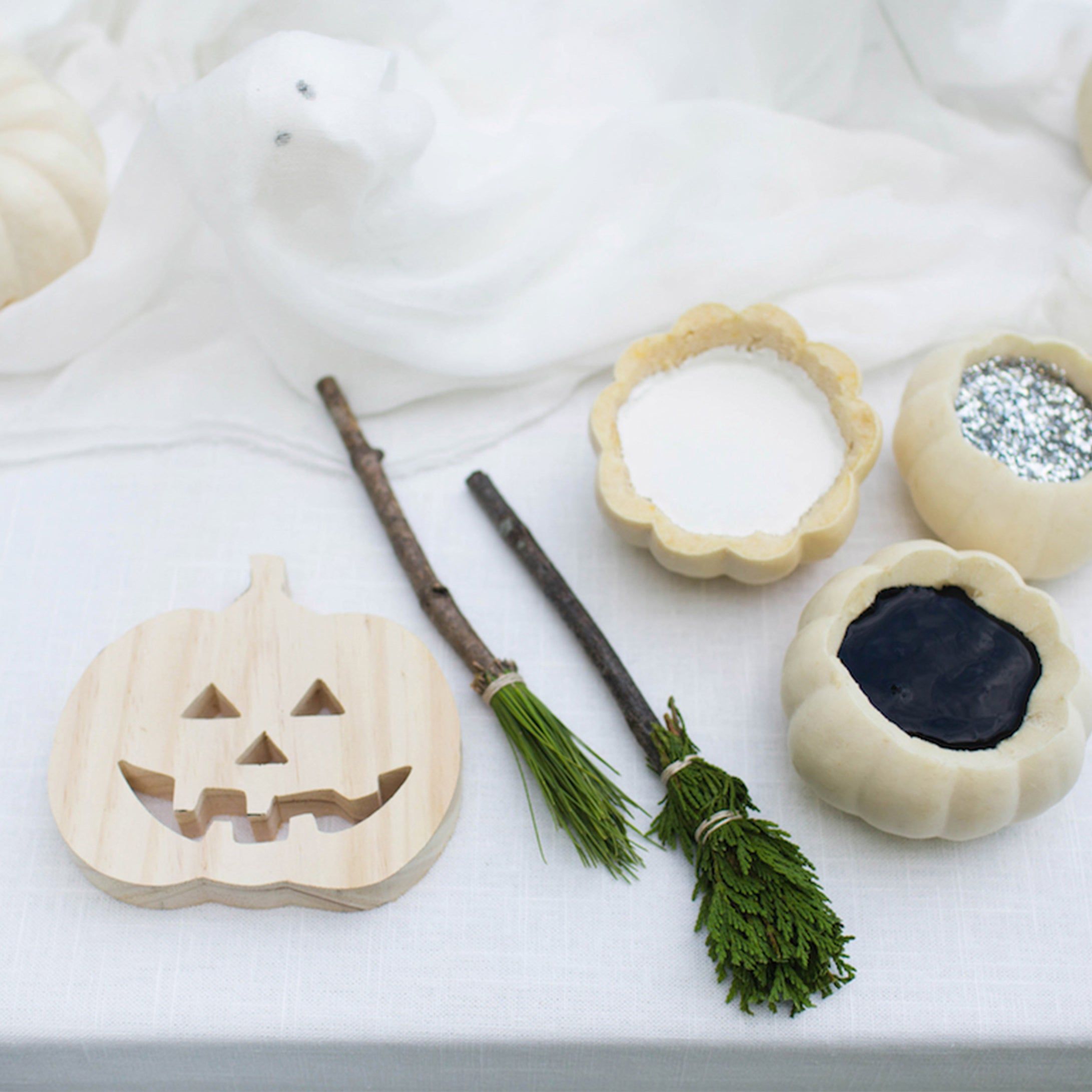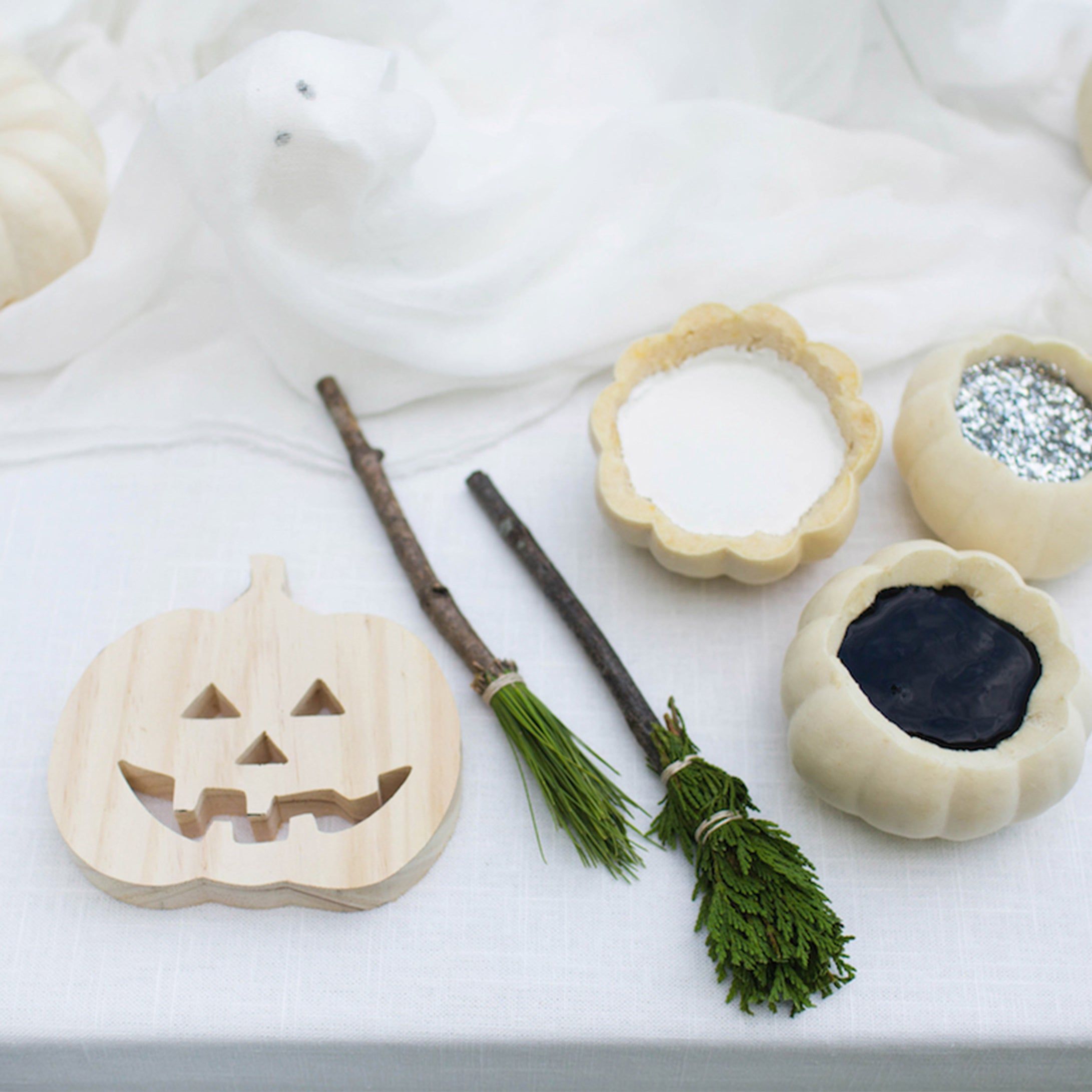 Vampire Bat Leaves
The next time you're on a neighborhood walk with the minis, gather a few leaves together and paint them black with washable paint. After they dry, use chalk or a white marker to create
vampire faces
on each leaf. Hide them in unexpected places like the bathroom mirror or tucked into a school book.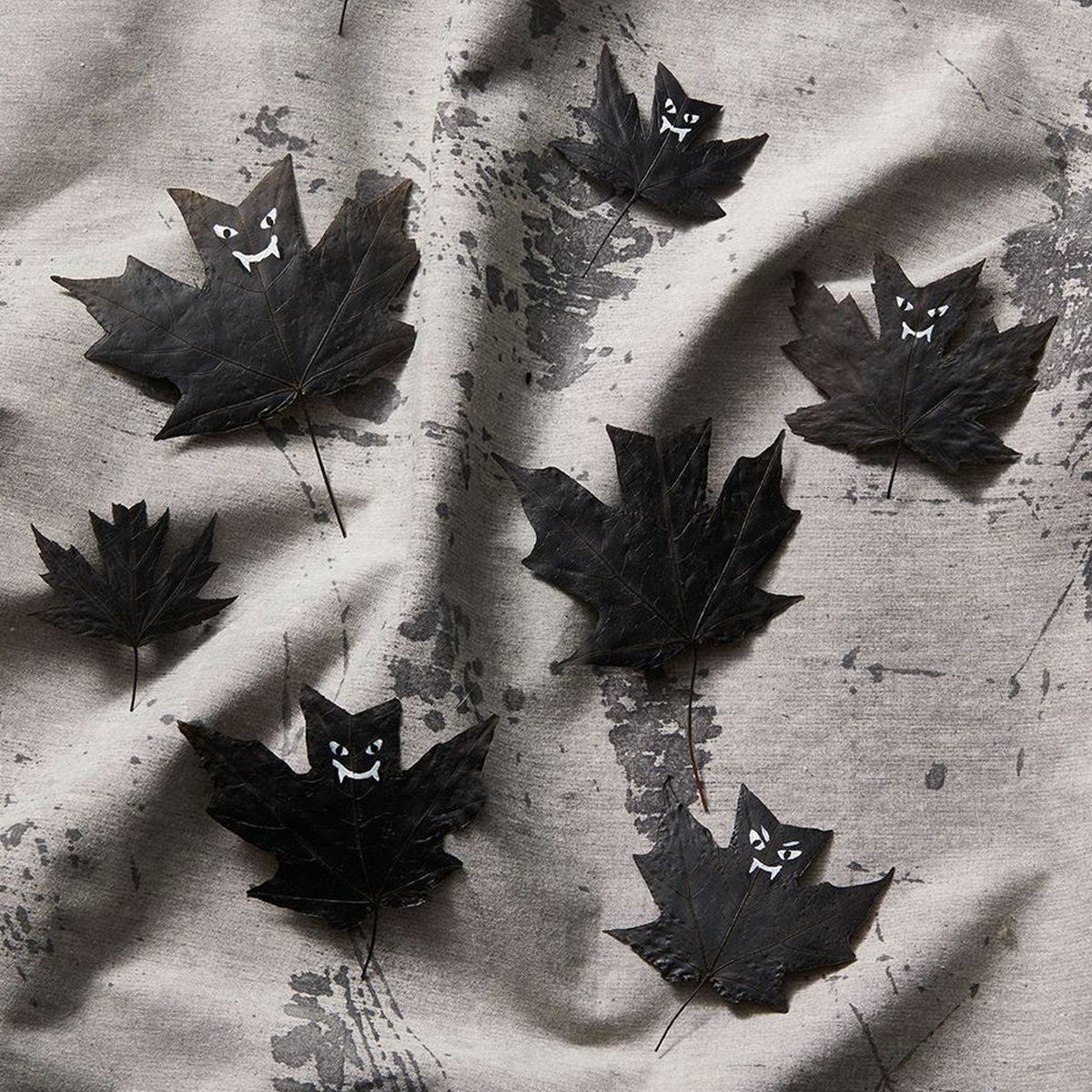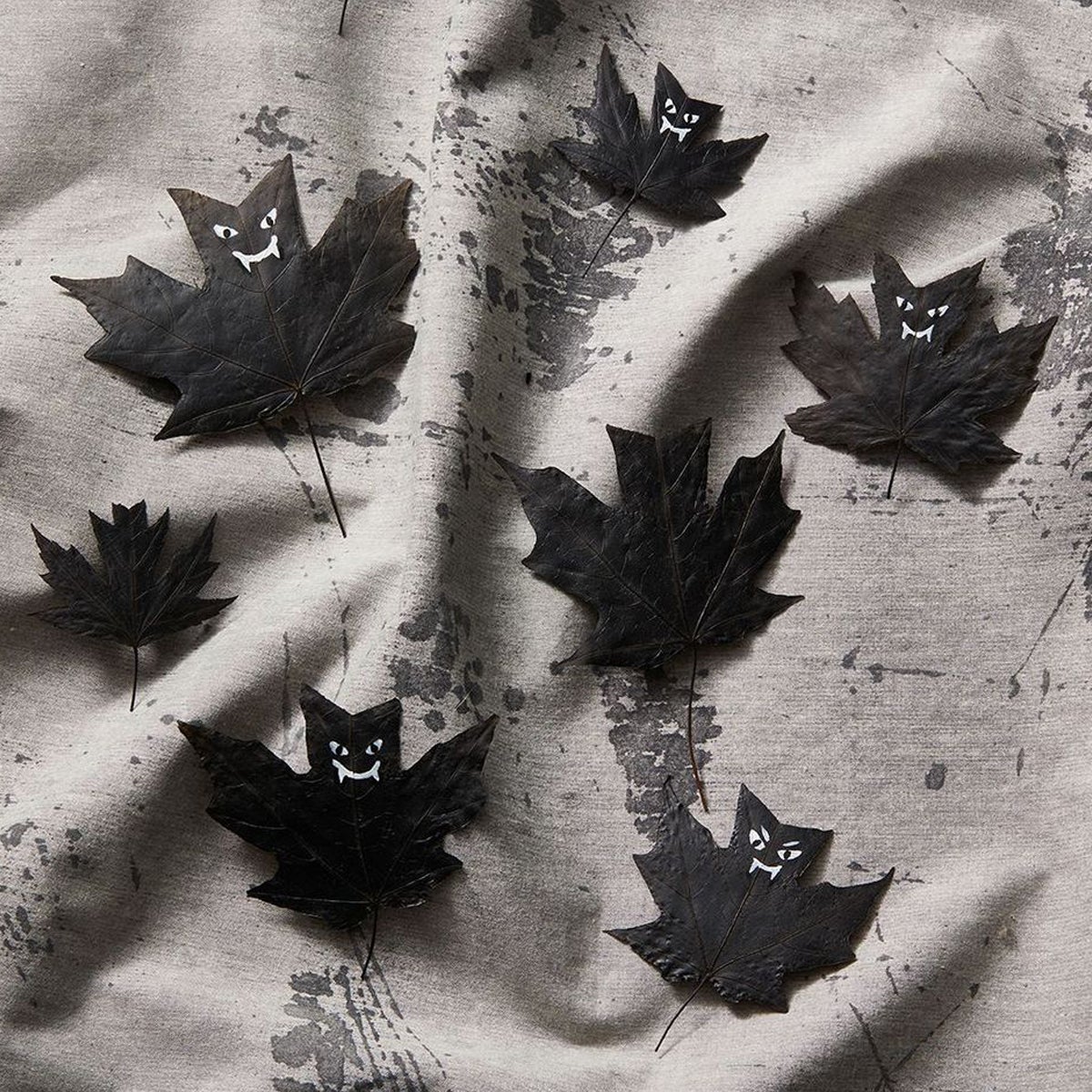 Pasta Monsters
You probably have everything you need to make these silly scribble noodles from
Handmade Charlotte
. First, cook spaghetti noodles, then dye them with food coloring. Give kids time to explore the sensory experience of wet noodles, then shape the noodles into little monster piles. Let them dry on a baking sheet covered with parchment paper overnight.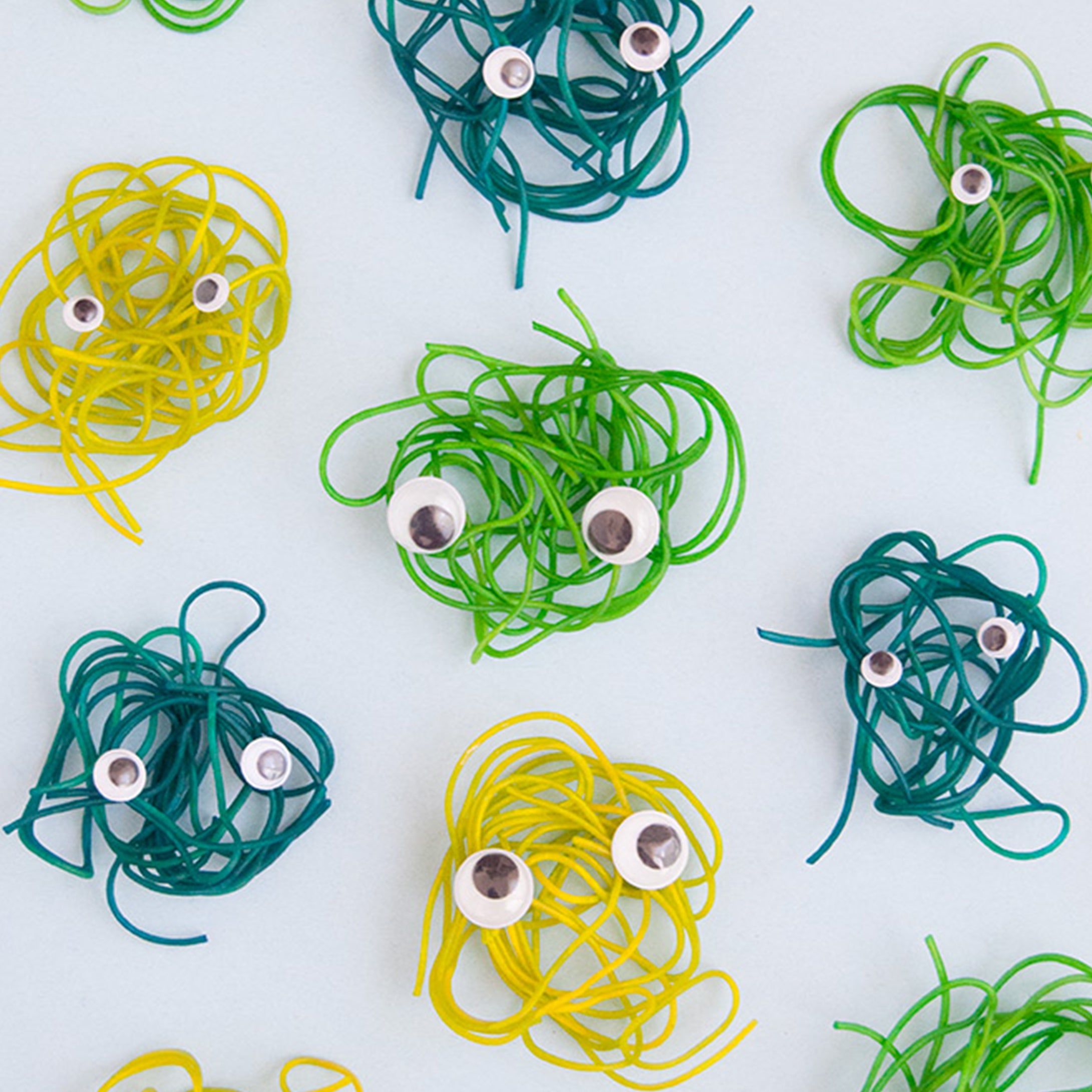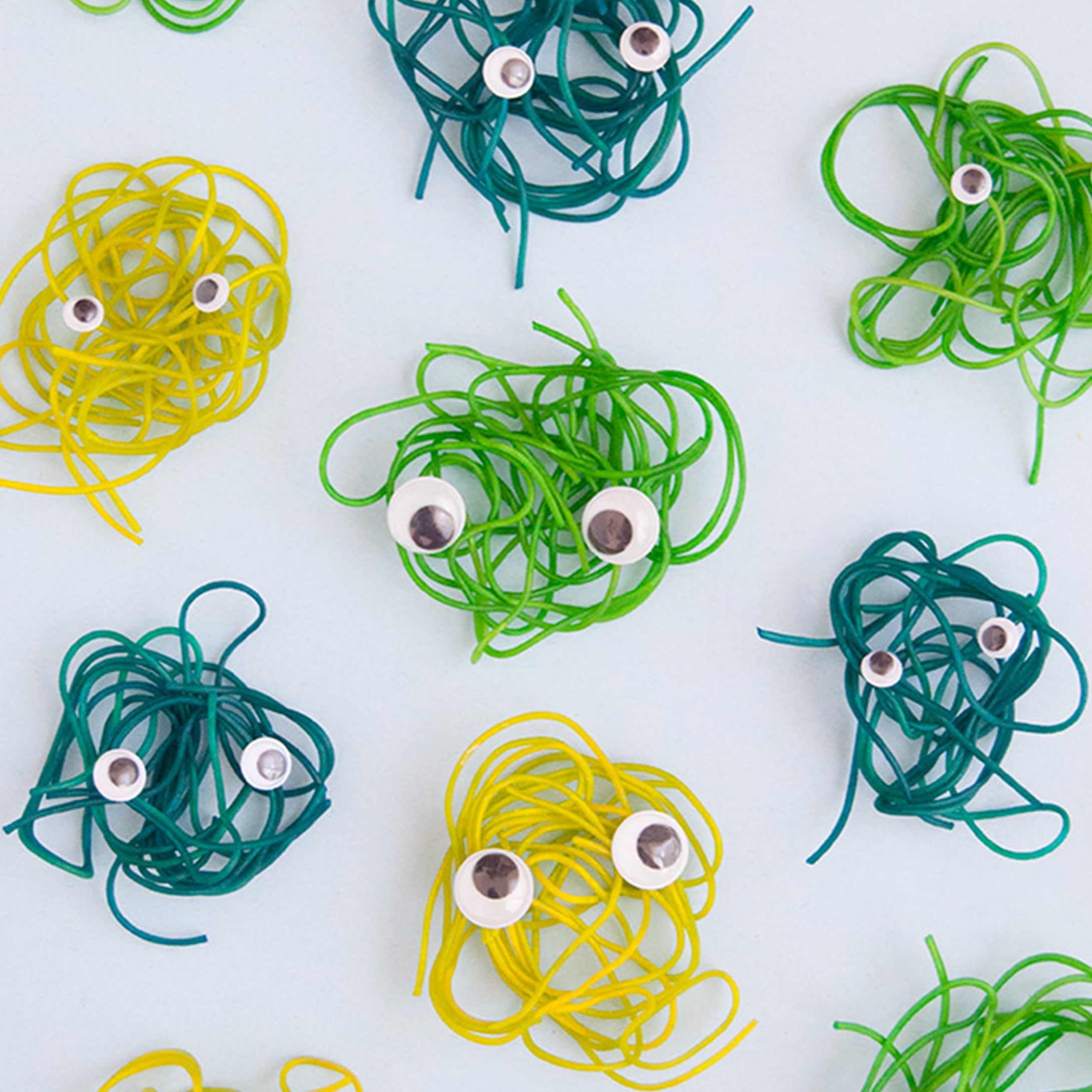 Witch Apple Prints
Slice an apple in half and dip it in washable paint to make apple prints. Add googly eyes, witch hats, or pumpkin stems with paint to this toddler-friendly printmaking project from
Studio DIY
.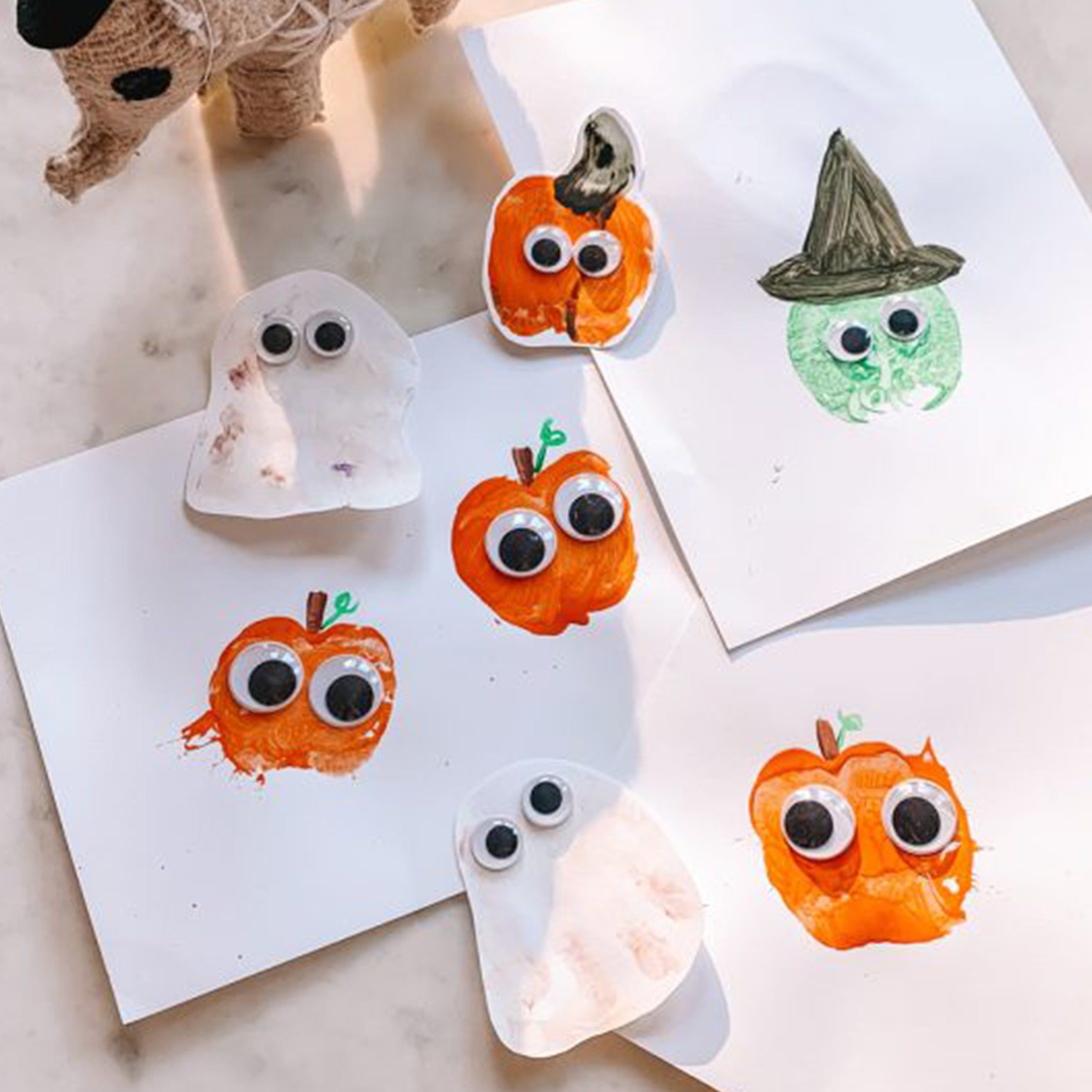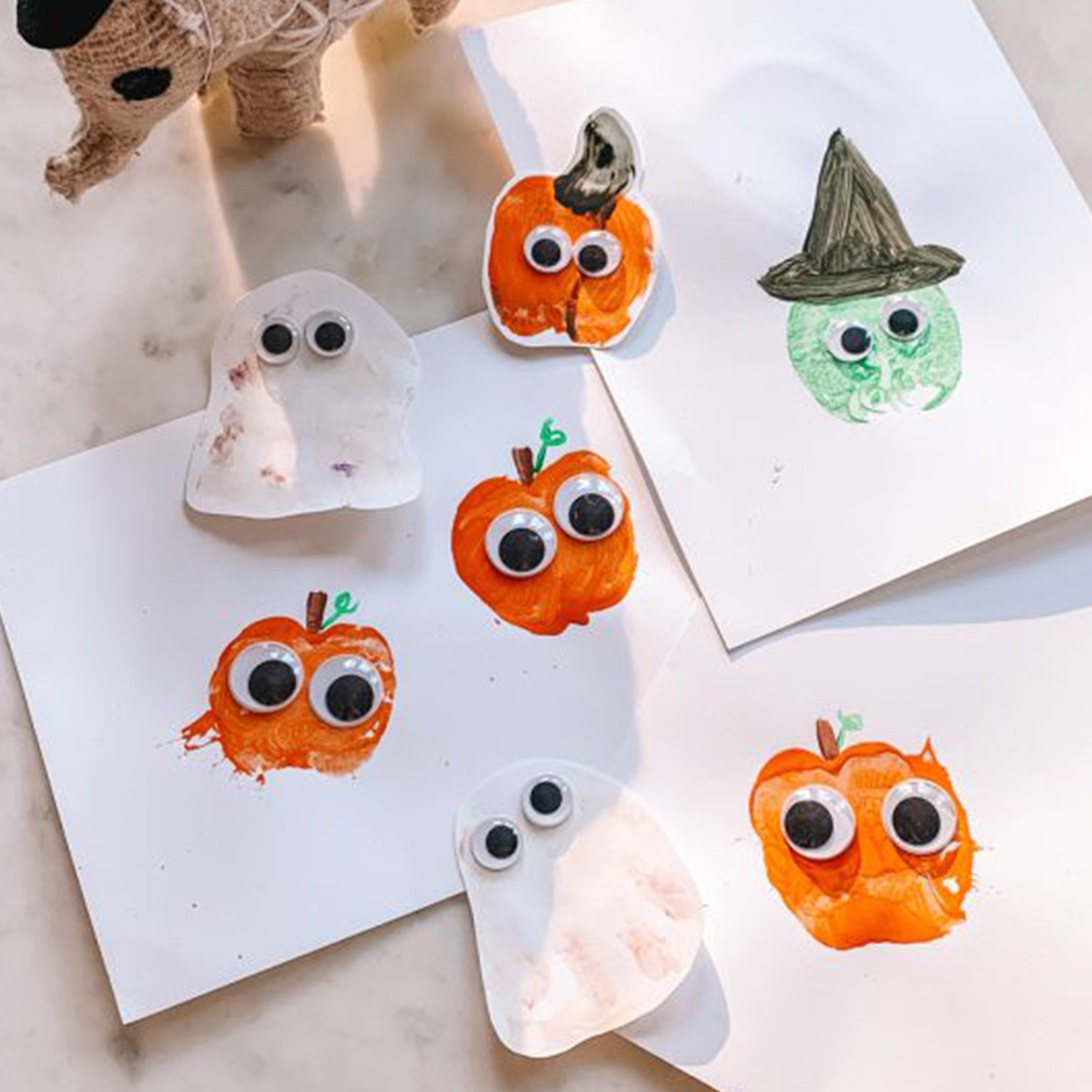 DIY Halloween Chalk
When stylist
Ginny Branch
couldn't find Halloween sidewalk chalk for her daughter, she whipped up her own with Halloween-themed baking molds. Mix 1 1/2 cups of warm water with 3 cups of Plaster of Paris until smooth. Add a few tablespoons of tempera paint, pour the colored mixture into the mold, and let dry completely before popping them out and head to the sidewalk. It will take about a day. Make a batch over the weekend to practice stirring and measuring with your minis.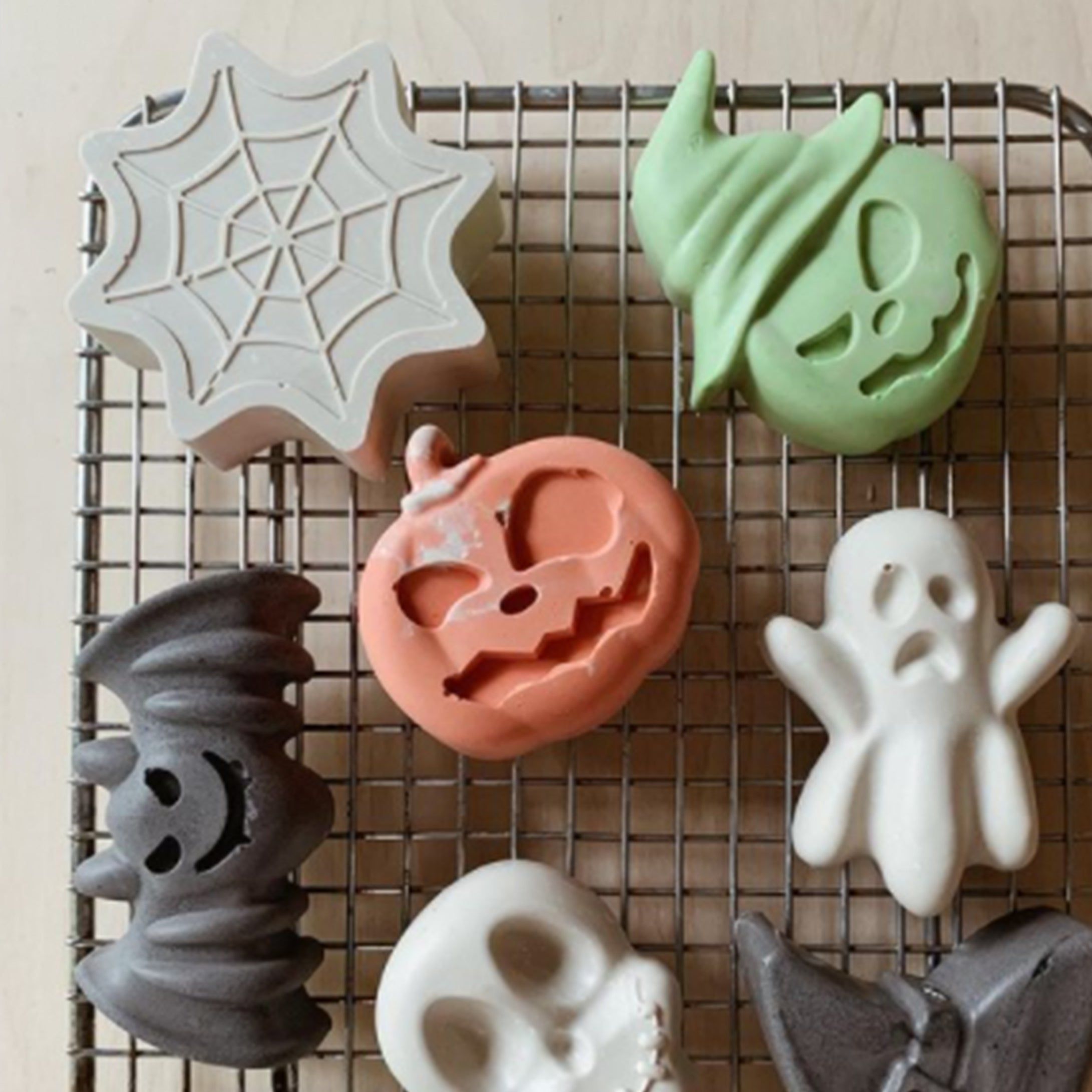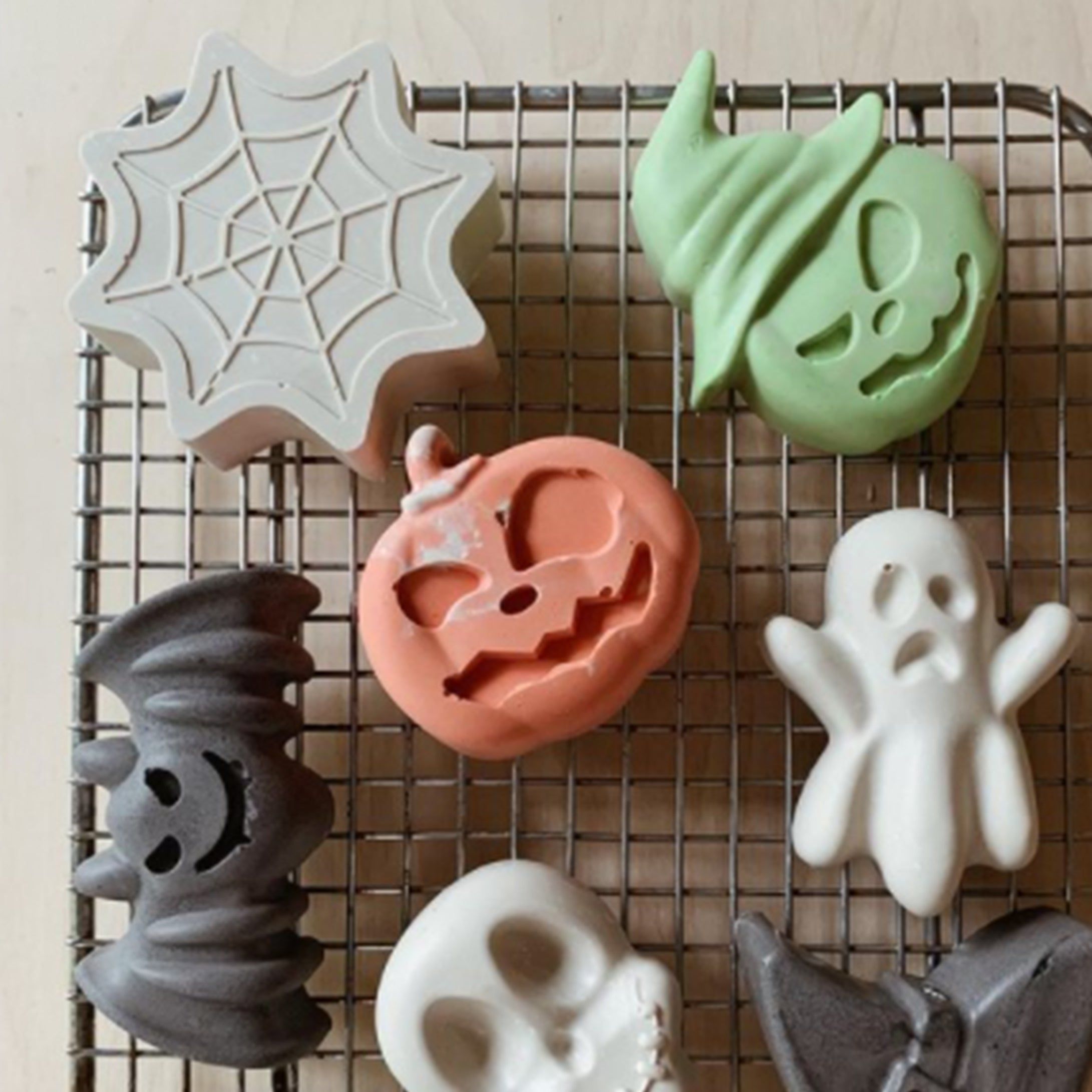 Spooky Newspaper Bat Banner
Paper dolls but make it Halloween? This
Newspaper Garland
from Handmade Charlotte turns the Sunday paper into a series of repeating bats, ghosts, and pumpkins to hang from bunk beds or front stoops. All you need is the paper, tempera paint, and child-friendly scissors.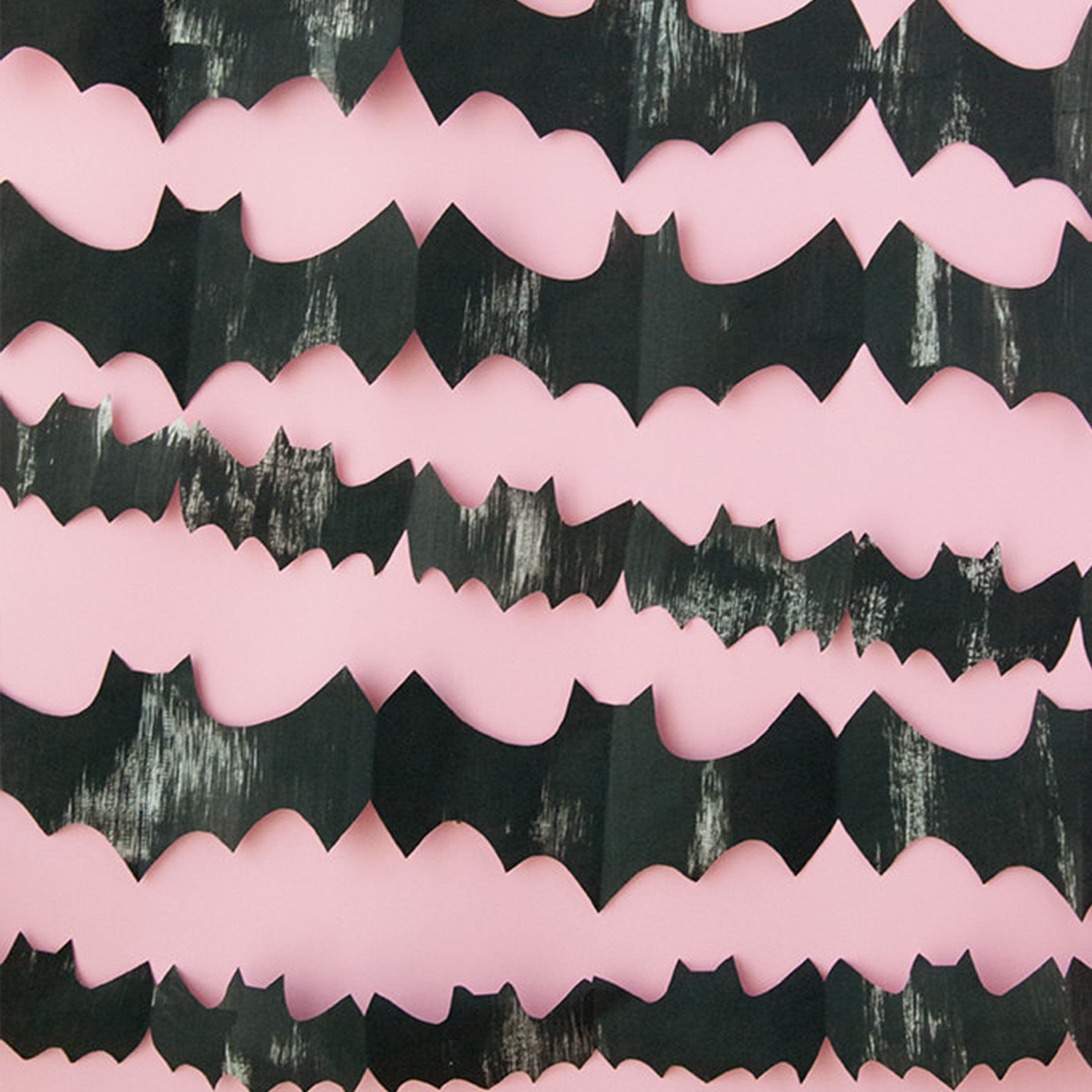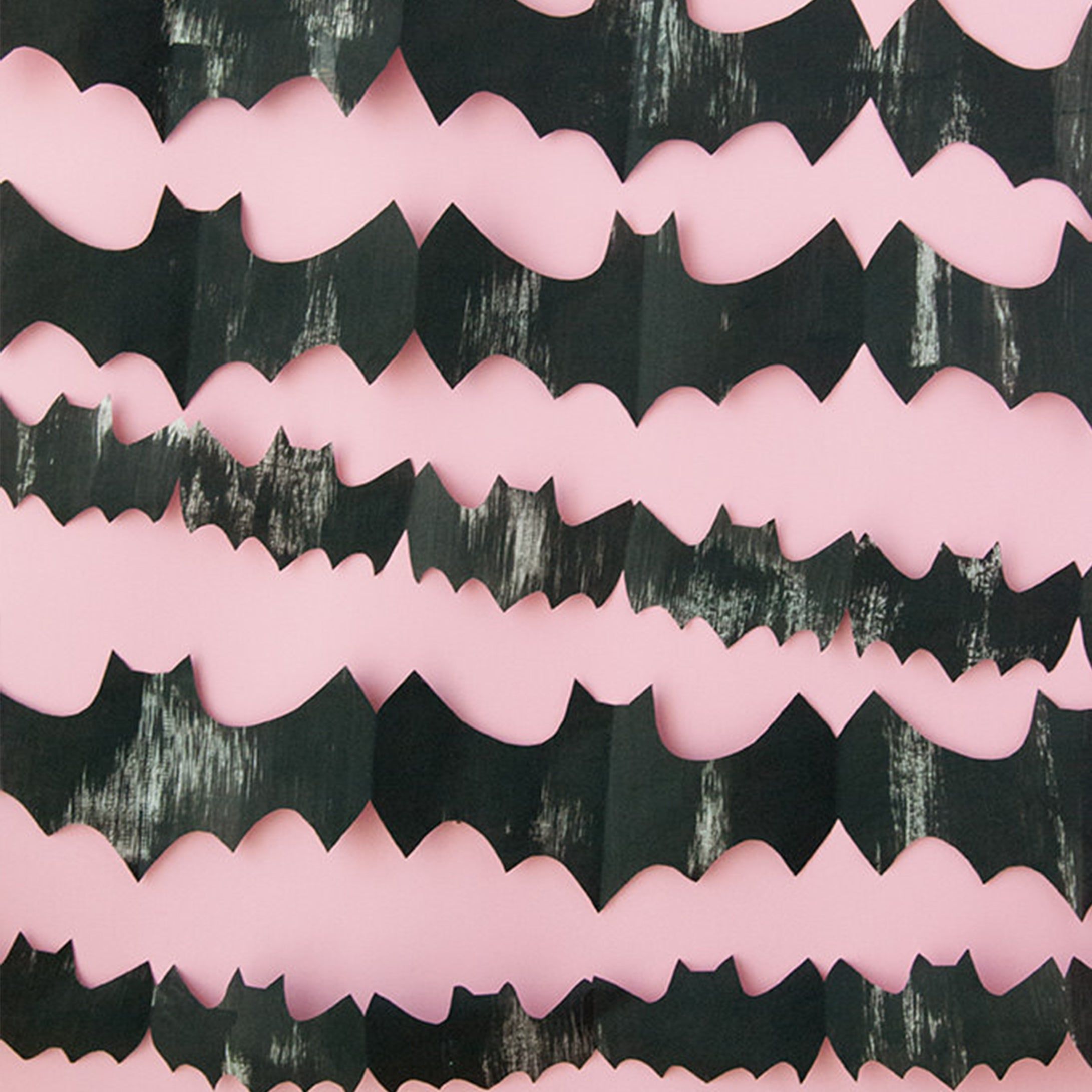 Halloween Treat Bags
This play on words treat bag idea from
Oh Happy Day
is just the right amount of creepy for Halloween get-togethers or a
DIY Haunted House
or a non-candy trick-or-treat alternative. First, fill each bag with eyeballs, candies, toys, or erasers. Then, print out the template tag, cut it out, and attach it to the bag with a ribbon before handing them out to friends.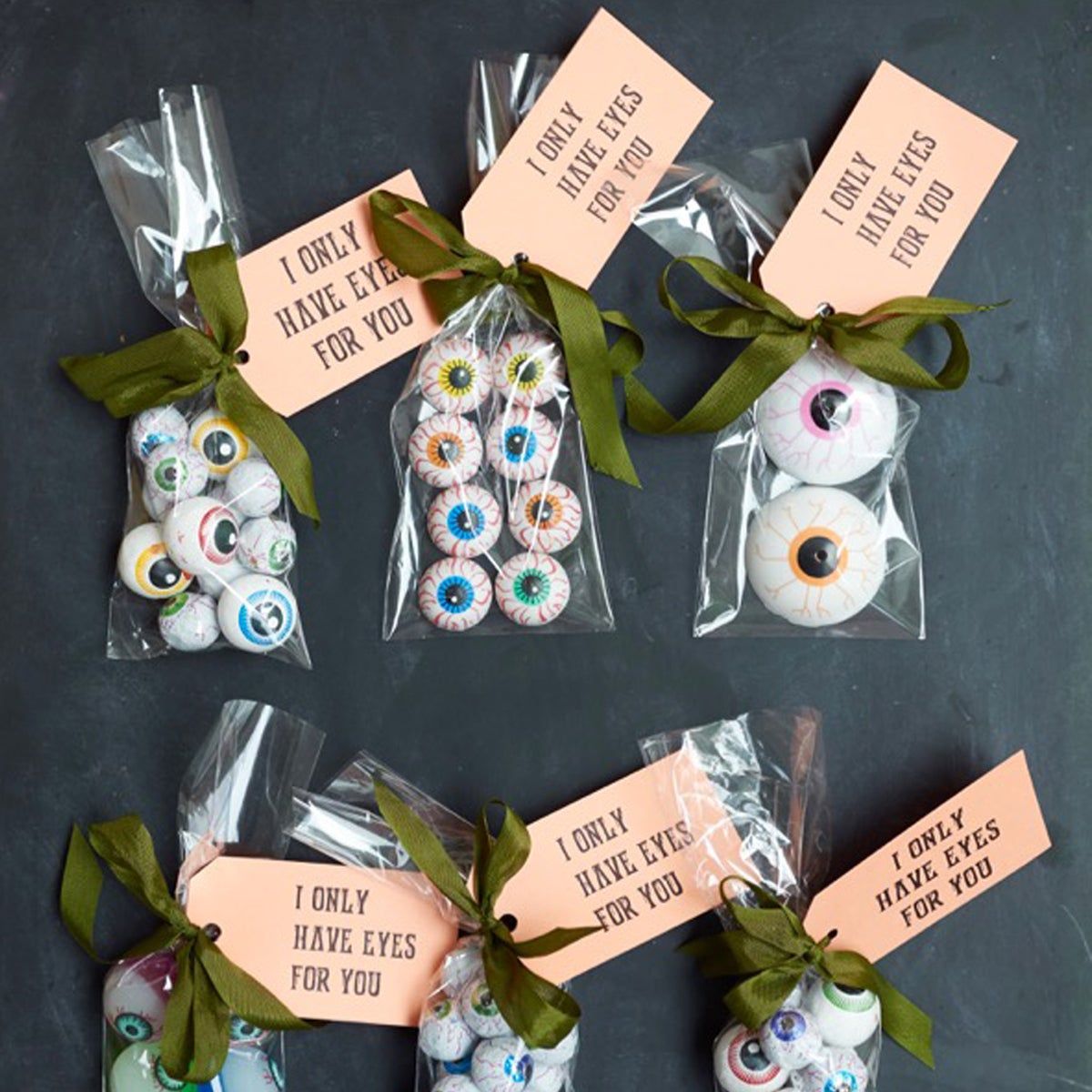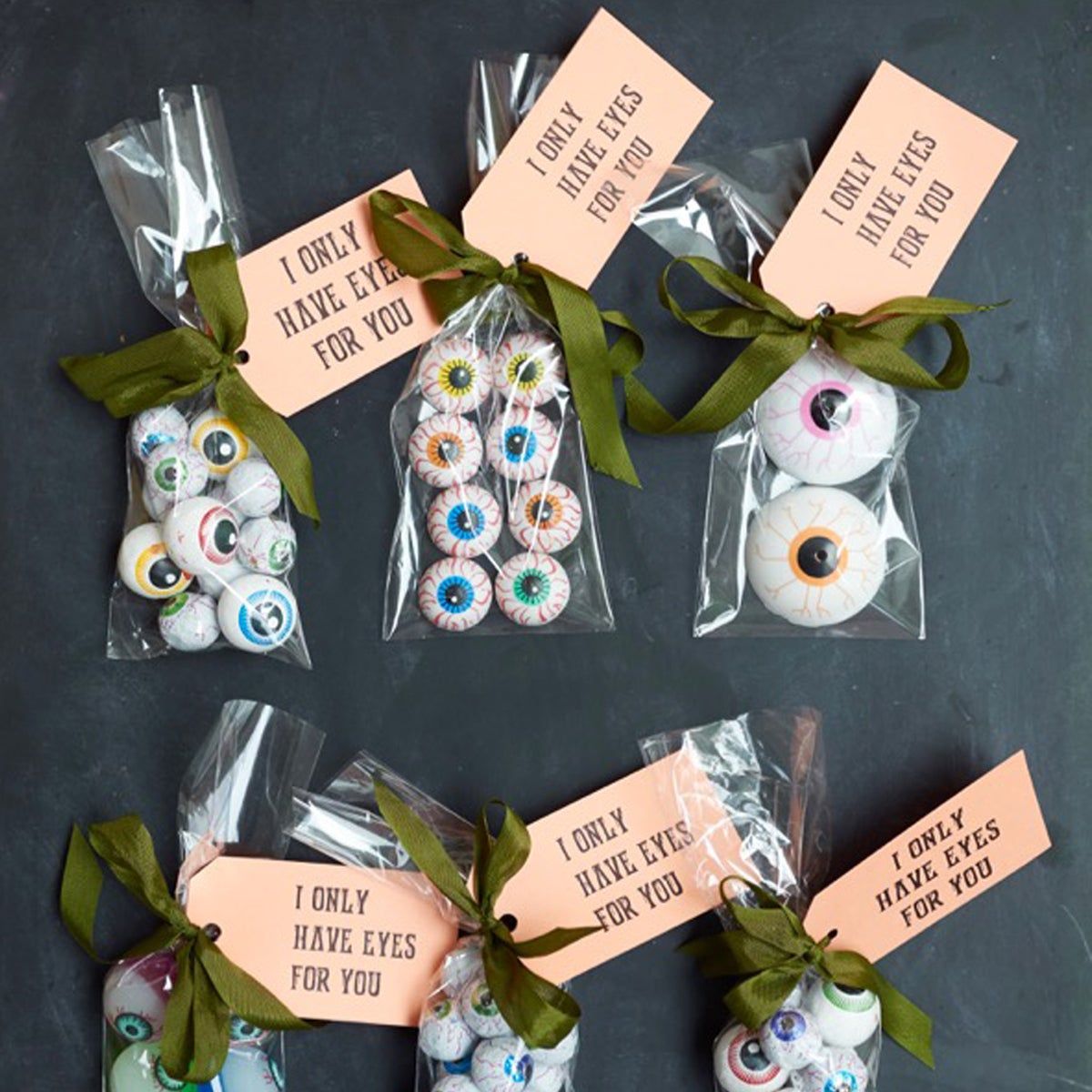 Starry Night Pumpkins
Skip the carving knives (and pumpkin guts) and break out the sparkly stickers instead. Just
paint pumpkins
pink and let littles go crazy with
Meri Meri stickers
in Halloween shapes that feel decidedly not spooky. Top your pumpkin with a witch hat, obviously.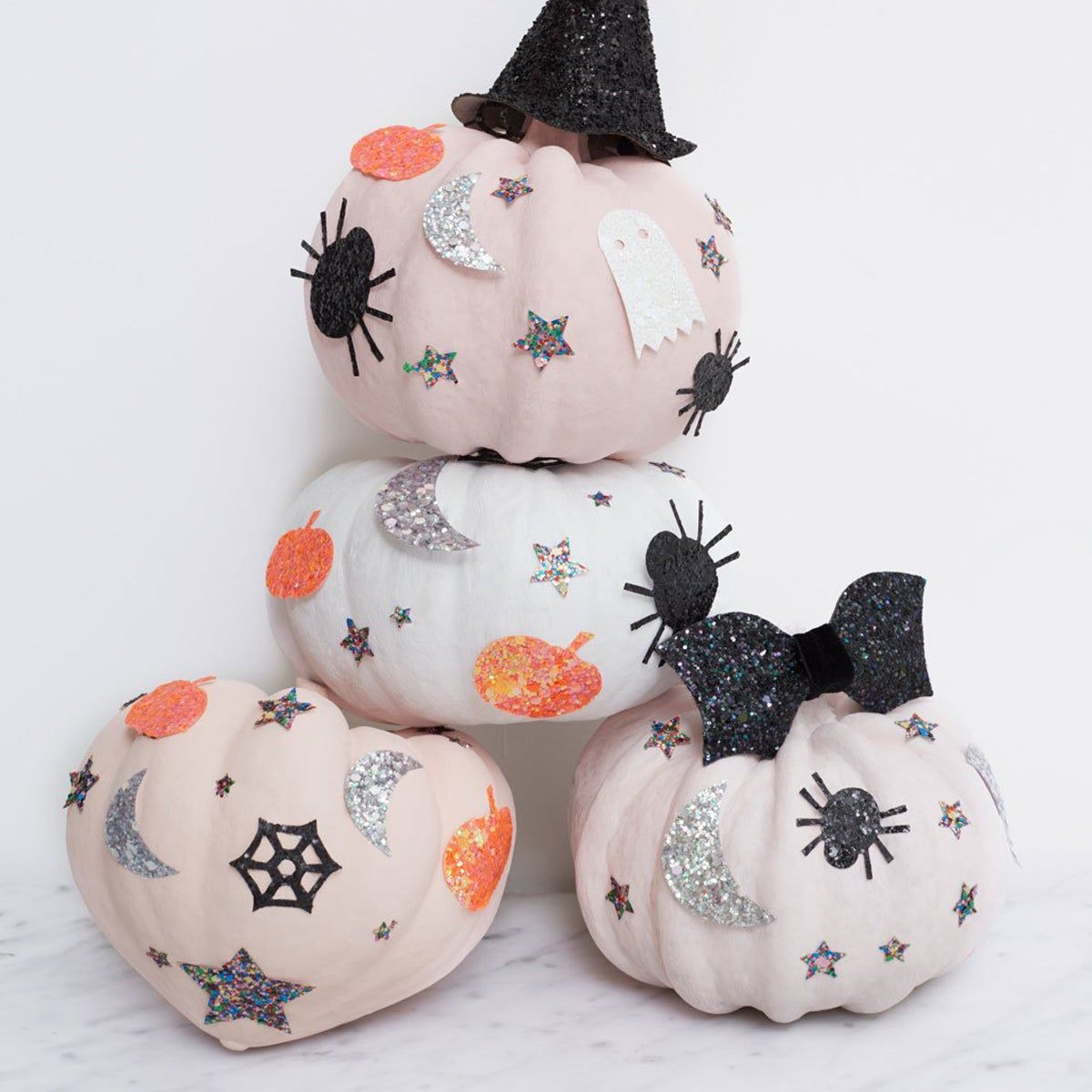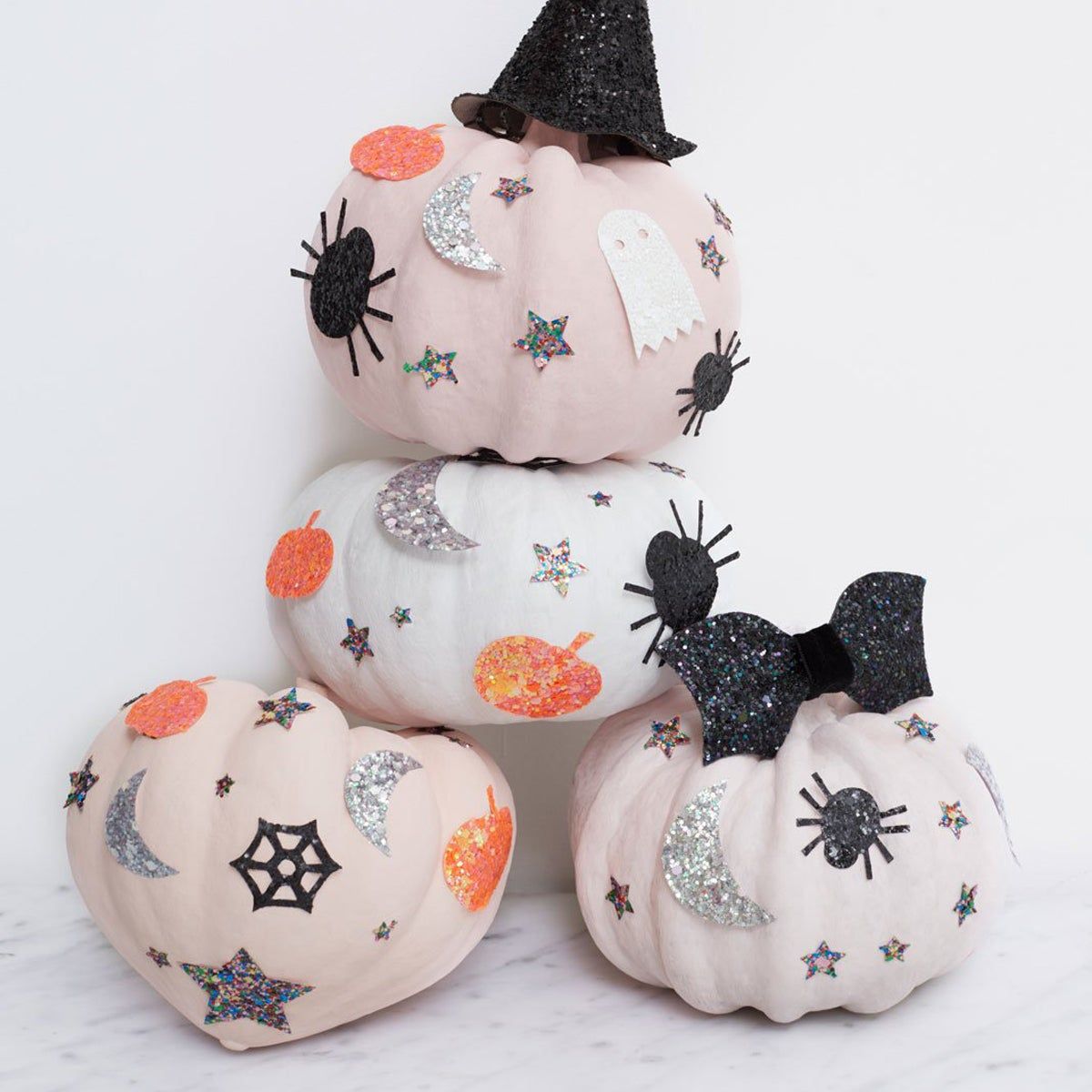 Halloween Luminaries
Art director and illustrator
Erin Jang
created luminaries to make Halloween at home feel special for her two boys. She asked them to draw on each white paper bag with a black marker, then added an LED tea light and filled them with a few treats for them to find around the house, scavenger hunt style.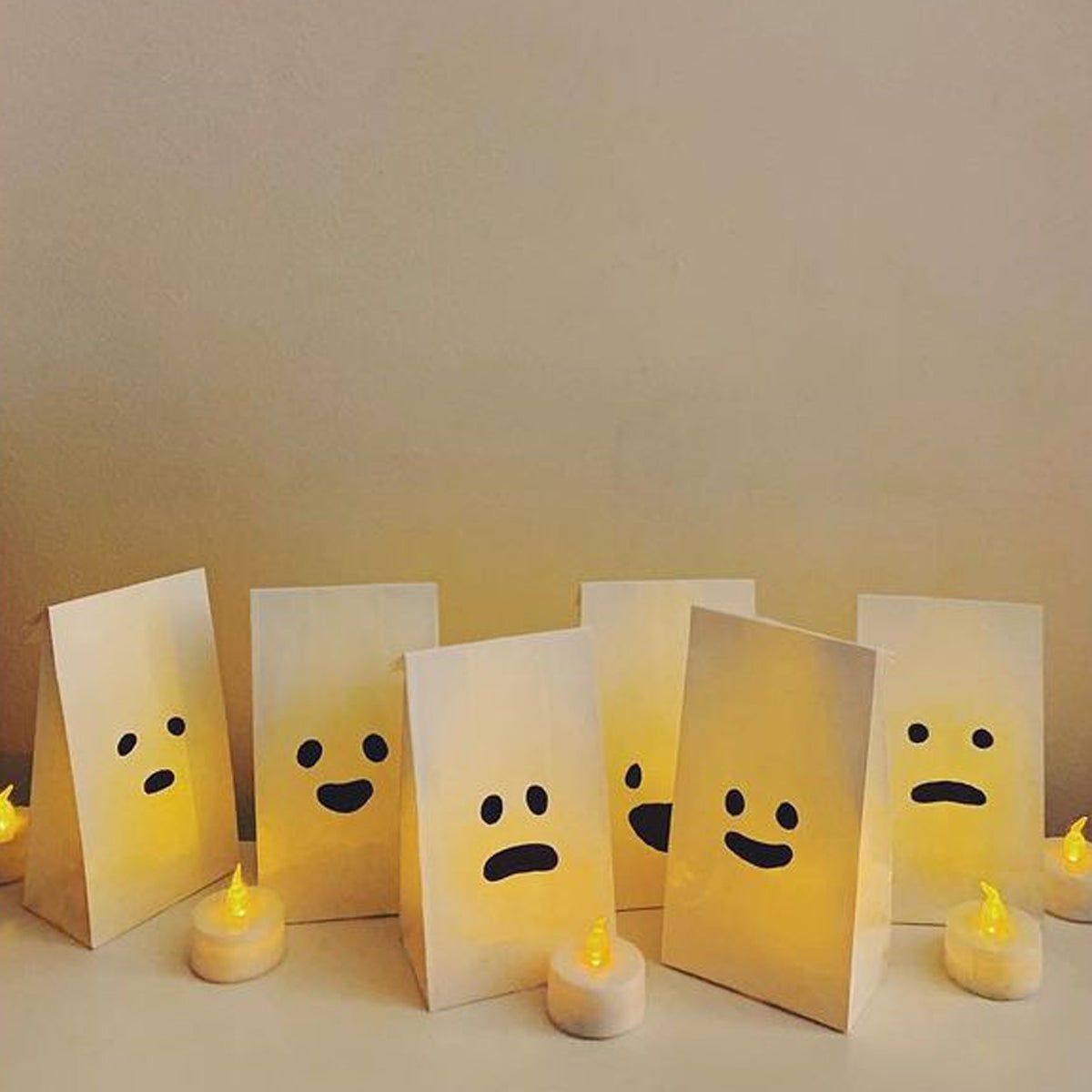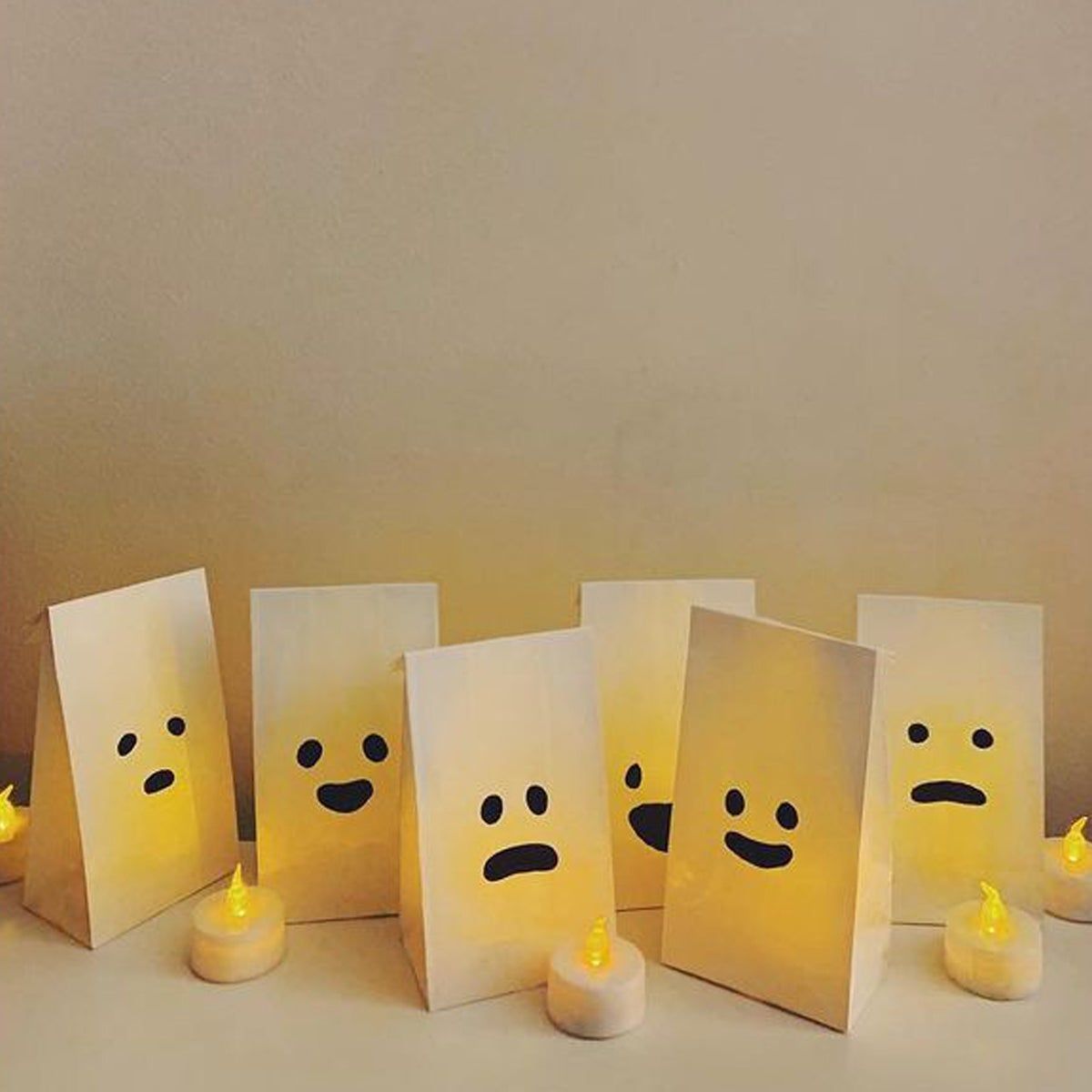 Friendly Ghost Wands
These genius wands from
Oh Joy!
light the way as the sun sets on Halloween night. Drop a small LED light into a balloon, fill with air and tie off. Tape the balloon to a skewer and drape with gauze. Add faces if yo'd like.